I just counted my Italian cookbooks and am at a grand total of 11 and growing. For inspiration,  I also go on the Internet to my favorites, Giada De Laurentiis, Mario Balti and Lidia Matticchio Bastianich to name a few.
Following is one of my favorite recipes for a dinner party. It is impressive, tasty and takes up little space on the plate. The recipe comes from the cookbook, "The Food of Italy" and recipes are by Sophie Braimbridge and Jo Glynn with my creative adaptations.
Veal Involtini – "Little Bundles"
Serves 4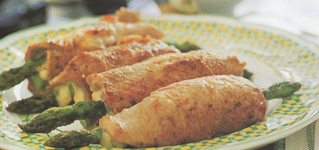 Ingredients:
8 asparagus spears
4 veal cutlets (sliced thin) – pound with meat mallet to tenderize or have done by butcher
4 thin slices of prosciutto
4 thin slices of fontina cheese
All purpose flour, seasoned with salt & pepper
3 tablespoons butter
1 tablespoon olive oil (see cooking notes)
3 tablespoons dry Marsala wine
Instructions: Wash asparagus and break off woody ends. Blanch in boiling salted water for 2-3 minutes based on thickness of spears. Do not overcook. Reserve 3 tablespoons of liquid and plunge in cold water to stop cooking action. Drain and set aside for assembly.
Prepare veal cutlets by placing each cutlet between 2 sheets of wax paper & pound with a meat mallet or have butcher tenderize. This will provide a thin tender meat that will wrap easily & fry quickly. Season lightly with salt & pepper
Assembly:
Place the veal cutlet on a flat surface and cover with a thin slice of prosciutto and a thin slice of fontina cheese. Place 2 pieces of asparagus along side each other in the center running across the shortest width. Alternate spears so tips are hanging over veal at each end. Final result is to roll bundles and have asparagus tips visible at each end.
Roll each veal slice up tightly and tie in place at each end with kitchen string. Roll in seasoned flour.
Heat 2 tablespoons butter & olive oil in frying pan. Fry the rolls over low heat for about 10 minutes, turning frequently, until golden & tender. Transfer to a hot serving dish & keep warm.
Add the Marsala, the reserved asparagus liquid & the remaining butter to the pan & bring quickly to a boil. Simmer for 3-4 minutes, scraping the bits from the base of the pan. The juices will reduce & darken. Taste for seasoning, then spoon over veal rolls & serve immediately.
Enjoy!
Cooking Notes: The Involtini can be assembled earlier in the day, refrigerated and then fried when ready to serve. Cut off the butcher twine before serving.
For a treat I use infused olive oil "Sage & Mushroom" from The Olive Grove in Mendota Heights, MN.  They also ship!