Luxury Villa in Southeast Tuscany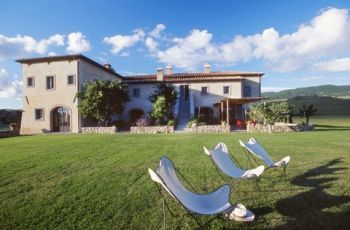 A luxury villa that sleeps 19 in 8 very spacious bedrooms all with ensuite bathrooms.

Stunning kitchen, great hearth for grilling, 10 gas burners, two large ovens, microwave, double sized fridge, central table for 12.

Dining room for 20 seated, splendid sunset and clay hills views

Spacious living room with fireplace

Hot tub for 6, jet stream

Ancient stone paved sheltered dining patio for 20 seated with built in barbecue and large wood-burning brick oven for pizzas or baking meats.

Second patio stone paved to enjoy sunsets

Guest's laundry (washer and tumble dryer

Satellite TV, DVD, stereo player
Vegetable and flower gardens
3 acres automatically watered lawn and orchard
WiFi broadband access in most of the house
A/C in each bedroom
Solar panels for the pool to naturally heat.
please click on images for larger view
Villa Primo (Ground floor)
Villa Piano (2nd Floor)
Master Suite (2nd floor) with plenty of natural light through several windows. Vaulted ceiling with sitting area and fireplace. Queen sized bed, walk in closet and ensuite split bathroom with stone bathtub and rainfall shower head. Harvest Tour: Suite 3,000 euro/person (Suite)
North Bedroom (2nd floor) with Queen sized canopy bed. Writing desk and antique sofa creating a stunning space. Harvest Tour: Suite 2,750 euro/person (Deluxe)
Spacious dual sink bathroom with Tub & Rain-shower.

Lofted Bedroom is on the 2nd & 3rd floor. Space includes a sitting area with sofa, chair & T.V. Ensuite bathroom located on same floor with a shower. Stairs to lofted floor with King sized bed and two twin beds (can be combined for 2nd King). Sleeps 2 - 4* persons. Harvest tour: 2,750 euro/person (Deluxe)

* Supplement for 3rd & 4th person 1,200 euros per person.

Lofted Bathroom
Corner bedroom (2nd floor) has great natural light with 2 corner windows and vaulted ceiling. Queen sized canopy bed. Harvest Tour: 2,600 euro/person (Standard)
Corner Bedroom / Bathroom has a large window and Tub - shower combination.
The Tower bedroom (2nd floor) can be set up with twins or King sized bed. The bathroom features a large tub with rainfall shower. Harvest Tour: 2,600 euro/person (Standard)
Amiata bedroom (2nd floor) has vaulted ceilings and four posted Queen canopied bed. Special feature is a cozy window seat overlooking the gardens. Ensuite split bathroom each having a sink and one side has Tub/shower and the other toilet. Harvest Tour: 2,750 euro/person (Deluxe)
External bedroom (ground floor) has it's own private entrance off the rear garden. It can be set up with twin or king size bed. Bathroom has a combination shower & tub. Harvest Tour: 2,600 euros/person (Standard)
The villa garden is ours for picking fresh vegetables and herbs.
One of the beautiful protected terraces.
Interiors are tastefully decorated with antiques creating an authentic setting.
Views are amazing from inside and outside!