Family celebrates anniversary with three generations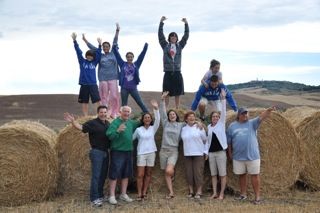 I had the wonderful opportunity to plan an Italian Adventure for a family of 14... Joan and Lou with their 3 daughters & son-in-laws and 6 grandchildren. They started in Rome where I arranged private guided tours of the Vatican Gardens / Museums / St. Peter's one morning and the a private tour of Ancient Rome. Next they trained to Naples where drivers picked them up and took them to Pompeii for a guided tour and then Mount Vesuvius and to their destination in Positano along the Amalfi Coast for 3 days of relaxing and enjoying the Mediterranean Sea. Next stop was Florence to see Michelangelo's David and the famous Uffizi Gallery. The last week was planned to rent a luxury villa in Tuscany where they could take day trips, visit wineries and cook together and relax by the lovely pool.
Following are some images that capture this amazing family adventure.
please click on images for larger view
Private Vatican Garden's, Sistine Chapel and St. Peter's Tour
Sharing a moment on the hotel rooftop terrace next to the Pantheon.
Grandchildren experience Ancient Rome
Family together at Pompeii Ruins
The guys relax and take in the view on the Amalfi Coast.
Dining Al Fresco at their Villa in Tuscany.
Lou making pizza for their wood burning oven at the villa.
Sunset from their Villa in Southern Tuscany.
Happy Anniversary!