Couple enjoys an Umbrian Villa for a week.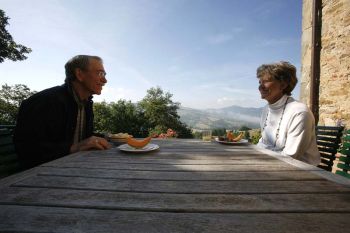 Chris and Jim Kaspar have traveled many times to Italy but had never rented a villa for a week. Chris and I went to high school together and she contacted me to help find the perfect villa in Umbria for a base to explore the area. They loved taking day trips to small towns to explore the culture and countryside. Jim is an excellent photographer and has a small business James R. Kaspar ~ JRK Images and loves capturing the beauty of Italy and it's people and history.

Photos on this page by James R. Kaspar ~ JRK Images


"We thoroughly enjoyed Italia as you can well imagine and we're very appreciative for all your efforts and suggetions on our behalf, especially the farmhouse, which was fabulous."
Jim



please click on images for larger view
The hilltop villa was near the town of Montone and had panoramic views.
One of the highlights of their week was having friends visit from Switzerland and enjoy a dinner together prepared by local chefs.
Primi course of handmade ravioli.
Insalata of oranges and fennel
Chef Melchiorre prepares wood fire for grilling lamb.
Friends enjoy their chef prepared meal at their Umbrian villa.
Jim and Chris explore hilltowns from their Umbrian villa. Jim finds unlimited photo opportunities.
Lovely scene in Cortona
Hilltop town of Spello.
Nearby town of Montone
Town of Gubbio
Market in Todi where wild boar sausage is the regional specialty.