The Fab 10 Go to Italy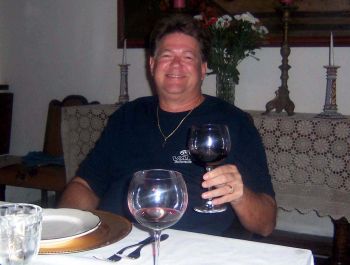 "The Fab 10" – Family & Friends Rent an Italian Villa in Tuscany for
one fabulous week



Dave Nelson contacted me to assist he & his wife Andi and 8 friends and family in planning their Italian Adventure. We literally worked a year ahead to put together all of the details of a villa rental, transportation, hotels for arrival and departure cities and to plan a group winery tour with my sommelier, Carla, private tours in Rome, dinners at the Villa cooked by Italian chefs and suggested day activities.

Comments from Dave Nelson the chief contact for the group:
"I found Ginger on the Internet and she helped us plan the most enjoyable Italian vacation. For our group of ten, she surveyed each individual by email to find out what they wanted out of their vacation and setup several conference calls so we could talk options and travel tips. Besides getting us a great hotel in Rome and a super Tuscan villa, Ginger setup private Vatican tours and a bus with a private tour guide to visit several wineries in one day. She was well worth the petite remuneration."



Testimonials from the Fab 10



"Ginger, thanks for all the help and prep for the trip...everything worked out wonderfully well." Bob Karczewski

"It was truly difficult leaving the beautiful country of Italy and saying goodbye to all of you. It doesn't get much better than enjoying friends (and family who are also friends!), good food, wonderful scenery, and the dolce vita in Italia. The Nelson famiglia does hope that we can have a reunion trip in the future. Ginger, You definitely provide a worthwhile service, and we all appreciated it. I echo the thanks to you for giving us such great trip "tips." Andi Nelson

"What a memorable trip! George and I really enjoyed meeting (and eating, and drinking, and sightseeing) with all of you - and would welcome a reunion trip. Thanks to Ginger (and to Dave) for all."
George & Linda

"Thanks to all for a great vacation! We enjoyed meeting the Florida contingent and sharing our Rome and Tuscany experiences with everyone. We may have to plan another trip to replenish our supplies of Chianti Classico!"
Arrivederci,
Sharon & Don

"We can't believe we're already back in the USA. What a wonderful trip and a terrific group of friends. We really enjoyed spending time with each of you and look forward also to a reunion. We echo everyone in thanking Dave and Ginger. Ginger - the villa was outstanding; the tour guides - Rita and Carla were superb; the Scavi tour was one-of-a-kind; and your travel tips were very helpful."
Sandy & Bob




please click on images for larger view
The group relaxing on their rooftop terrace at their Rome hotel in Trastevere with their private guide Rita.
Andrea enjoys the quiet streets of Radda in Chianti.
The top of the Leaning Tower on a day trip to Pisa.
Enjoying a lunch in the beach town of Viareggio on the Italian Riviera/
The Essence of Italy
We scheduled a day with our wine sommelier to take the group of 10 into the Chianti Region. This is a view of the quaint town of Gaiole.
Wine tasting in the town of Gaiole
Famous wine and butcher shop in Greve.
A special tasting and tour of the Cennatoio Winery in Tuscany.
Rob checks out the hanging grapes during harvest at Cennatoio.
A lovely wine tasting in the town of Radda in Chianti.