First Time to Italy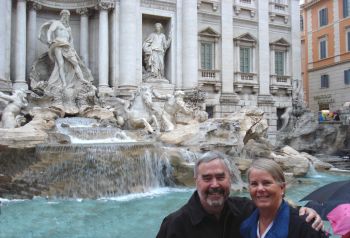 Kevin and Peggy are well traveled but had never been to Italy. They always planned their own trips but felt they needed extra support customizing their adventure to maximize their time and budget. We had 3 weeks to work with allowing me to design a wonderful itinerary at a moderate pace. Starting in Venice they trained to Florence, rented a car and drove to the small town of Panicale in Tuscany where they were immersed in village life staying in an apartment for 5 nights. This allowed them to day trip to small towns and spend a day in Florence. Next came Rome and a quaint B & B in Trastevere where they explored major sights in the city. Heading south, they drove to Maratea to a timeshare for several nights in the Basilicata region. Next came the beautiful Amalfi coast at a small property in the town of Amalfi, where they day tripped to Capri and enjoyed the Mediterranean Sea. Leaving Amalfi they trained to the lovely Cinque Terre for 3 nights before departing from Milan. They had a most memorable trip and shared a few travel tips:
• If driving, use a GPS which works well until you get close to or are leaving town. Then use your gut instincts!
• Read up on the different signage for parking in Italy.
• Be sure to check to see if the lighter in your rental car is working before you leave the airport if you plan to charge your GPS or other electronics during longer drives.
• Be sure you know how to open doors on the train as the stops are short.
• Take time to learn the local transportation, which can be very cheap.
• Try smaller meals throughout the day instead of large to save money.
• Advance reservations at busy museums is a big time saver.
• When visiting St. Mark's Basilica in Venice, check your bag and get a ticket to go to the front of the line. It is down a side alley off to the left of the Basilica 3 doorsteps down. Look for a sign with a suitcase.



please click on images for larger view
Maratea Port
Manarola, Cinque Terre
Testimonial for Italian Travel Coaching Services