Friends Celebrate 30 year Anniversaries Italian Style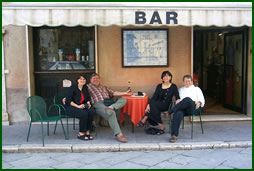 Chip, his wife, and their dearest friends of over 30 years chose Italy for celebrating their 30th wedding anniversaries. All were avid travelers, so what they needed from me were trusted accommodation recommendations and suggestions in planning their celebratory trip. I recommended starting their trip in suites at a hidden jewel along the Mediterranean Sea for two days. It was a perfect opportunity to unwind and acclimate themselves to driving in Italy before heading north where a beautiful restored farmhouse complete with gourmet kitchen was awaiting their arrival. It has been over two years since their Italian adventure and they are still sharing the memories with their friends and family.

"Most of us dream about an Italian vacation. Most of us dream about experiencing a perfect trip. Most of us will never repeat that dream. So, our question was how do we live that dream when we have never been there and are somewhat skeptical with most travel agents. That is where Ginger came in.
I knew Ginger professionally through my own company a few years before our Italian trip. We came to be close friends but, more importantly, I came to trust her. That trust was both in her as a person and also in her experience in Italy. The four of us felt completely comfortable placing our dream vacation in her hands. Those hands created, truthfully, a dream in Italy. She told us when to go, where to go, how to get there, what to eat, when to eat, basically everything we needed to feel at ease in a foreign country. The four of us can't think of anyone we would recommend more highly than Ginger Pozzini."
Chip Moon
please click on images for larger view
Chip & Rivers Moon and Dick & Kitty Megorden celebrate 30th anniversaries in Deruta.