Couple Realizes Their Dream of Taking a Cooking Course in Florence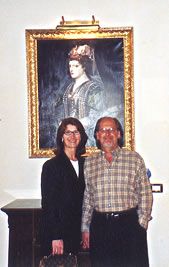 Linda was referred to me from a former client. She had the structure of the trip planned with airfare and hotels already booked. What Linda and her husband needed support on most was what I call the "Insider Package" better referred to as, "Now, what don't we want to miss when we are there." They weren't sure if they wanted to drive but learning I had a special session just on Driving in Italy they quickly agreed that would give them more flexibility. The map recommendations, tips and road sign session had Michael ready to go, or as good as you can be driving in Italy! Michael also had some dietary restrictions so I made up a laminated card in Italian he could hand to the waiter, which was most helpful. Other tips such as how to order coffee and special restaurant recommendations at the different locations also added to a memorable experience. The comment upon their return, "We didn't have one argument on the entire trip, which was a first for us"…priceless!

"After planning our trip to Italy for more than two years and having to cancel it last October due to family and world events, we were more than a little worried about heading over on April 1 with the impending situation with Iraq. Talking with Ginger over the phone alleviated our fears. Hearing about some of her experiences and her very apparent love of Italy made us more excited than ever about going. We really wanted to make this vacation special. We both love to cook and of course our favorite foods to make are Italian. We had looked on the Internet for cooking courses that were offered and most of them were extremely expensive and were for more than just a day. Ginger arranged a class for us in Florence that was wonderful. We met Francesca in the market, shopped for our groceries and then headed off to the Enoteca for our class. Her technique in cooking was not just to show us how to make the food, but she explained the textures or feel of the dough in the case of making the pasta. She explained how to balance the flavors by our taste of sour, sweet, bitter, and salty and what ingredients to use to make those flavors balance. She was not only a great cook, but also a fascinating individual. The fact that we were the only two in the class, and were served wine during the class was also a plus. This experience made our trip extremely memorable and fulfilled our dream of making our trip perfecto!"
Linda and Michael Reiling




please click on images for larger view
"We both love to cook and of course our favorite foods to make are Italian. We had looked on the Internet for cooking courses that were offered and most of them were extremely expensive and were for more than just a day. Ginger arranged a class for us in Florence that was wonderful."
"We met Francesca in the market, shopped for our groceries and then headed off to the Enoteca for our class. Her technique in cooking was not just to show us how to make the food, but she explained the textures or feel of the dough in the case of making the pasta. "