Ginger Pozzini
Italian Travel Coach and Artist
An Italian Travel Specialist and Artist, Ginger Pozzini lives her passion of Italy through her work. Her specialty is supporting people who want to immerse themselves into the Italian culture and countryside through renting restored farmhouses, villas and apartments. To learn more about Ginger's unique Italian Travel Coaching, visit her website: www.italiantravelcoach.com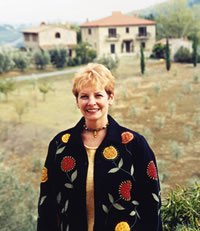 Ginger's 20 years of traveling to Italy has created a wealth of images she shares through handcolored photos. "When I handcolor a picture of Italy, it gives me a more intimate feeling of the place and people of Italy. I endeavor to capture the essence of Italy by studying buildings and walls and see years of loving care and preservation as they have been patched and repaired over generations. I wonder how many different craftsmen have worked on these walls as I color the bricks with multiple shades of terracotta. I see people's expression of space with ancient doorways and flowerpots surrounding an entry or window. What one person sees as a crumbling patched wall or building, I see as preservation of culture and heritage, which is what I so love about Italy." Ginger uses translucent photo oils and colored pencils to create her handcolored originals. Her works are painstakingly detailed often using a magnifying glass to work on smaller areas such as adding flowers or removing a color wash between bricks on a wall. All of this gives life and definition to her works. Reproductions are produced professionally on Fuji Color Crystal Archive paper.
For more information about Italian Travel Coaching,
Handcolored Originals and Reproductions contact Ginger.
Ginger Pozzini
Phone: 651-768-0542
Email: ginger@italiantravelcoach.com
Website: www.italiantravelcoach.com